I bet you all heard that more than a half of Kaggle competitions was won using only one algorithm [source].

You probably even gave it a try. It's so easy to get excited about a dream of getting on top of the leaderboard. Imagine all that fame and fortune, ahh.
Let's get real. You made it work. The submitted results are good but definitely not the best. Then motivation falls.
Don't give up! You know that it is possible to get more out of it. Start investigating deeper.
Time (and webpages) passes by. You are overwhelmed and even more confused than in the beginning. There are a lot of detailed, laser-focused guides, but it's hard to find a more general, easy to follow one.
It starts to resemble Dilberts story: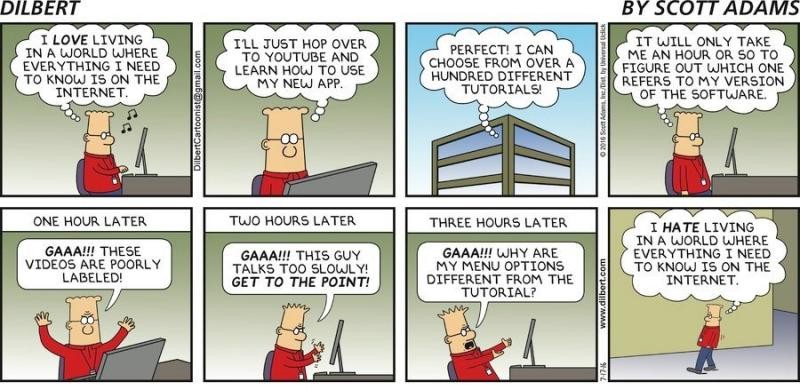 Additionally more topics relating to each other stars forming:
"I'm dealing with an imbalanced dataset, which parameters to tune and how?"
"My data contains missing values - does XGBoost handles them?"
"Gradient Boosted Tree? What the hell is it?"
"How can I evaluate my results to be more confident that I'm not overfitting?"
"The XGBoost version in repo wasn't updated for 1 year. Maybe I should install the latest version from sources?"
I have been that way.
I saw a lot of these question asked by other people on different groups or forums (uff, I was not alone). These are common issues. My "Read later" browser bookmark list was getting longer and longer.
And guess what.
I read it all.
Some of them were super boring, some very inspiring. I was determined and time spent cannot get wasted.
A guy named Seneca (Roman philosopher) once said - "While we teach, we learn".
So after spending 100+ hours of exploring all possible catches I present to you….